Welcome to yesMAMM.tripod.com the original home of Millions Against Medical Madne$$. We are moving to a new site located at
YesMAMM.net
We will continue to keep this site up for visitors that prefer it.
Millions Against Medical Madness provides Holistic Healthcare Information, Links and Products on Natural alternatives to Surgery, Pain management and the common medical use of Medication including NSAIDS, Anti inflammatory drugs and painkillers. The goal of M.A.M.M. is to educate the public to the fact that true health is created naturally. Health and Pain relief can be obtained through the use of natural painkillers, Alternative Remedies and therapies such as Chiropractic, Herbs, Homeopathy, Acupuncture & supplements.
We also offer information on the dangers of medicine, surgery, medical errors and side effects of drugs. We welcome you and invite you to browse the articles and links within this informative site. Please tell your friends and family about us and link to our site. Thank you for visiting and feel free to let us know if you find a relevant article or product that you feel should be added to our site.
Health is the only true Wealth. BE RICH!
The world is facing an epidemic of mass proportion. It is all to common today for the average person to experience high levels of physical and financial stress, to have a habit of consuming unhealthy foods and not receive the nutrients needed to sustain and replenish a healthy body. Most people tend to rely on the medical industry to mask their symptoms instead of addressing the cause of the disease and taking preventative measures to keep themselves in optimum condition.
Prescription drugs and common medical practice are rapidly killing many of the misinformed. From the increasingly deadly consequence of vaccinations in our newborns to the medicating and numbing of our youth. From the pain killer addictions and drug caused depression of our adults, to the poisoning and overdosing of our elderly. The time is now to empower yourself by researching the natural remedies and inexpensive alternatives readily available to the common everyday use of toxic prescription drugs and harmful medical procedures. Prescription drugs can be just as harmful and deadly as any other threat to the mind and body. Now that you have been told the truth, there is no excuse. The quality of your life and the welfare of your family is now in your hands. Learn to live and live well.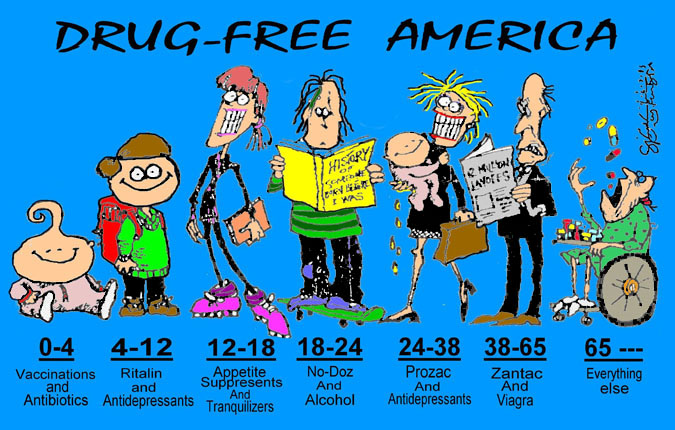 "The doctor of the future will give no medicine, but will interest his patients in the care of the human frame, in diet and in the cause and prevention of disease."
Thomas A. Edison
THE FUTURE IS NOW...

Wake up and LISTEN!
Sickness is not a natural state,
We are all meant to be healthy vibrant beings,
Health is Wealth, the time to take action is now!
You may be asking yourself....

"How can I take action?"

"How can I enrich the quality of my own life as well as my family?"

"How can I help my self healing body to do the job it was created to do?"
The answer is to become informed and then take action by making healthy choices.
M.A.M.M. has done the research and provided the information and links to many health related informative sites for you. Your next step is to take action by clicking on the links listed below by topic for related Information. Each listed topic contains sources & relevant products based on the most respected alternative health research information available on the topic of your interest. Remember, its never to late to develop healthy habits to increase the quality of your life as well as those in your family. Its up to you to make health happen! Don't wait till its to late! TAKE ACTION NOW!
or scroll down for information related to natural relief of ailments.
Alternatives to Surgery, Medical and surgical Procedures
SHOULDER, HERNIA, HIP, SINUS, GASTRIC & BACK SURGERY
Attention Deficit Hyperactivity Disorder
ADHD, ADDERALL, RITALIN, HYPERACTIVITY
Natural pain relief & Pain killer alternatives
PAIN, DRUGS, NARCOTICS, PHARMACEUTICALS,
Medicine, Prescription & Pharmaceutical alternatives
CHRONIC INFLAMMATION, TREATMENT, SYMPTOM RELIEF
Alternatives to Antidepressants for Depression an Anxiety
ANTI ANXIETY MEDICATION, WITHDRAWAL, WEIGHT GAIN
Alternatives to Viagra for erectile dysfunction and performance
ED, ERECTILE DYSFUNCTION, VIAGRA, IMPOTENCE, UPRIMA
Natural Antibiotic remedies and Alternatives to Antibiotic side effects
ANTIBIOTIC TREATMENTS, NATURAL ANTIBIOTICS, ANTIBIOTICS
Natural alternatives & remedies to medical treatment of Pets
NATURAL PET CARE FOR HORSES, DOGS, CATS, PETS

Data released in the major publication of organized standard (allopathic) medicine makes it clear:
latrogenic - that is, "doctor-caused" - disease is the third leading cause of disease in the United States, trailing only cerebrovascular ("Stroke and heart") disease and cancer.
The Journal of the American Medical Assn. (JAMA) made estimates ranging from 235,000 to 284,000 deaths per year due to doctor-related causes. The figures were considered conservative in some circles and, in terms of side effects due to correctly prescribed legal drugs, somewhat lower than those earlier reported by the Institute of Medicine (IOM).
Critics of the report noted that the figures were derived from studies of hospitalized patients and address only deaths rather than disabilities and other side effects from medical errors.
The July 26 (JAMA, Vol. 284) account reports 12,000 deaths from "unnecessary" surgeries per year, at least 7,000 medication errors in hospitals, 20,000 other kinds of hospital errors, some 80,000 infections picked up in hospitals, and 106,000 negative effects from drugs allegedly correctly prescribed and administered (earlier estimates in this area have been as high as 140,000).
Noted Joseph M. Marcola DO in Townsend Letter for Doctors and Patients (October 2000):
"These statistics prove very clearly that the system is just not

working. It is broken and in desperate need of repair."

M.A.M.M. Highly recommends reading the following listed articles on natural alternatives and therapies to medication, NSAIDS, anti inflammatories, pain management, pain killers, prescription analgesics and surgery.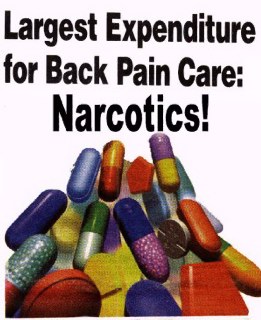 The December 2000 issue of The Back Letter presented an article on a study of treatment costs for low back pain.' The study included 126,186 members of a "Pittsburgh area health care system" (UPMC), four percent of whom experienced low back pain in the first six months of 1999. The 4,764 members with low back pain generated the following claims and expenses:
Expenditure Cost
-------------------------------------------
| | |
| --- | --- |
| Narcotics | $630,000 |
| In-Patient Admissions | $318,500 |
| MRIs &CT Scans | $348,200 |
| Surgery | $226,000 |
| NSAIDs | $141,000 |
| Pain X-Rays | $105,000 |
| Physical Therapy | $ 90,042 |


ARE YOU TIRED OF BEING SICK & TIRED?

DO YOU WANT TO TAKE CONTROL OF YOUR HEALTH?

ARE YOU TAKING PRESCRIPTION AFTER PRESCRIPTION?
Its Time To Wake Up and take responsibility for your Health
Below is an amazing list of resources that comes highly recommended by the staff here at the M.A.M.M. natural health site. We advise that you view and purchase these products and techniques that are guaranteed to enhance the quality of life of every individual. Dr. Baird has spent over 25 years researching these natural remedies, techniques and products that will help address the causes (not just symptoms) of some of the most common health problems that you or a family member may have. Below we have compiled a life saving list of natural remedies, Reports and products that are designed by the top health professionals in their fields.
POWERFUL FACTS
The nervous system controls and coordinates all of the organs and structures of the human body. Grays Anatomy pg. 4
Many internal diseases are cured by the spinal adjustment alone. Leaving the adjustment (Chiropractic) out of the treatment plan invites failure.
Felix Mann MD, Paul Nagler MD, Kungo Magayama MD
A well aligned spinal column is essential for a healthy body.
H. Winsor MD
The organized aggregate of all nerve cells and nerve tissue of higher animals centralized in the spinal cord and brain of vertebrates. It has the function of coordinating, controlling and regulating responses to stimuli, directing behavior, and in man, conditioning the phenomena of consciousness.
Funk and Wagnals Dictionary.
It is most necessary to know the nature of the spine. One or more vertebrae may or may not go out of place very much and if they do, they are likely to produce serious complications and even death, if not properly adjusted. Many diseases are related to the spine. Hippocrates
As Hippocrates stated "Many diseases are related to the spine." So its important to understand the chart below. It displays the spine on the left with the areas and sections that if misaligned can be the cause of the symptoms of dis-ease listed directly to the right. An example would be that if the neck or cervical vertebrae are out of alignment and or pinching a nerve, that could cause Migraines, Ear problems and the many other listed symptoms. With proper realignment the cause of the symptoms will be corrected.
Spinal Chart representing disease associated with spinal misalignment.
For some, breathing development is of the utmost importance, right now. For others it is an indispensable aid to superior health, peak performance, and life extension.

Virtually every health condition and human activity is improved with Optimal Breathing.

Clinical studies prove that oxygen, wellness, and life-span are totally dependent on proper breathing. Lung volume is a primary marker for how long you will live.


Blog, Guest book, Links and Product information


Find Natural Health related articles, Info, Sites, Products and Alternative practitioners in your area with our search box below.

Articles, Links, Products, Advice and Insight from Dr. Baird DC


Please join us in becoming one of the Millions Against Medical Madne$$


Clothing, Bumper stickers & more promoting natural health.


BIO PRO: Protect yourself and your family too.

Click Here to read about "THE PROBLEM"
Bio Pro Technology has provided the most advanced, scientifically products to help stop WIRELESS HAZARDS of the Wireless AGE ! One example is Cell Phone ... they are
dangerous to use and carry with you for a long period because they emit dangerous bursts of information carrying radio waves with every call. Radio waves are EMF
(electro-magnetic frequencies).
Today, BioPro Technology offers the world's first ever custom designed suite of products to effectively deal with the growing problem of electropollution from wired and wireless devices
like cell phones, cordless phones, computers, iPods, Blackberry and much more!
Airplanes can give you more radiation than X-ray!!
Children are more susceptible to cell damage because their skulls are thinner, and the
cellular tissue in their brains and bodies are still growing.

Click Here to read about "THE SOLUTION"
Take a look at these products - cell chips, universal chips, home harmonizer, iWater, and much more. There are many testimonials and researches from all over the world on how effective
BioPro Technolgy products are.
BioPro Technology is one of a kind!

Millions Against Medical Madness is a web site that provides information on Natural, Holistic and Alternative health care. We provide articles and info on the positive effects of Chiropractic, Homeopathy, Acupuncture Meridian Therapy, Reflexology, Massage, nutritional supplements, vitamins and minerals, foods, diet and herbs. M.A.M.M provides this information to educate the public on the alternatives to surgery, medication and the other therapies often prescribed by the medical community. We believe that Natural health care should be used as the primary form of health care for all.
Medical Health care (Drugs, Surgery, NSAIDS, Anti inflammatories, pain management, pain killers, prescription analgesics and invasive testing) is not Natural health care, and has many dangers attached to their use, thousands of people die every year from misdiagnosis, poor surgical response and properly prescribed drugs and medication. There are many options and natural alternatives to surgery. We have included many articles and links in this site that share these alternative therapies and options that you have regarding your health.
Natural healthcare includes therapies such as Chiropractic, Homeopathy, Acupuncture Meridian Therapy, Reflexology, Massage, nutritional supplements, vitamins and minerals, foods, diet and herbs are often labeled as Complimentary health care. While Natural health care is complimentary, it should not be referred to as Complimentary health care, it should actually be referred to as an Alternative to Medical health care. The Holistic approach to health should be primary and the first priority in any form of preventitive health care.
Our goal at millions against Medical madness is for Alternative healthcare to become the primary form of healthcare. Medical Health care is not by definition Healthcare, it is not health enhancing, it is the treatment of symptoms, not correction of cause, with drugs, surgery and high tech invasive testing that does not create wellness or ease and has many harmful effects on Health. Natural and Holistic health care finds the cause of the disease and helps the body to correct it.
Holistic Healthcare is not Complimentary Health care, it is Alternative Health care, used instead of drugs, surgery or invasive testing to find and correct the cause of disease, so that the body can then heal itself as it is meant to do. The human body is a self healing machine when given the proper rest and nourishment it needs. There are natural remedies and alternative therapies for herniated discs, Gallstones, back injuries, carpal tunnel syndrome and other common problems. All of these options and many more are available as alternatives to surgical procedures.
Alternative Health care must be Holistic and include the mental and emotional aspects of the patient, the use of natural medicine and treatment such as Chiropractic, Homeopathy, Acupuncture Meridian Therapy, Accupressure, Reflexology, Massage, nutritional supplements, vitamins and minerals, foods, diet and herbs (Gods medicine). By using these health promoting and maintaining therapies you are providing your body with the ability to heal and become stronger as well as being better able to deal with any stress caused by inner or outer sources.
Chiropractic is a natural therapy. Chiropractic can be used to treat and prevent back pain, arthritis and other disorders. Chiropractic care helps to keep the body in a healthy state. Chiropractic doctors achieves this by aligning the spine. With Chiropractic treatment nerve pressure is removed and the body can then function optimally with good communication from brain to tissue. Chiropractic care is essential for optimal health. Children as well as adults benefit from Chiropractic care.
Homeopathy as well as Chiropractic is a natural therapy. Homeopathy can be used to treat and prevent disorders. Homeopathy helps to keep the body in a healthy state. Homeopathic remedies may be used to effect change with the least side effects. In the practice of Homeopathy the being is considered as a whole. Physical aspects are not the only aspects taken into consideration during treatment. Homeopathy includes the emotional and mental aspects of the being in its approach of treatment. Homeopathy is widely used as primary form of health care in Europe.
Acupuncture is another natural therapy. Acupuncture can be used to treat and prevent disorders. Acupuncture treatment helps to keep the body in a healthy state. Acupuncture achieves this by balancing the yin and yang electrical energy in the meridian system of every individual. Acupuncture has been used in Asia as a primary form of Health care for over 5000 years. Literally thousands of books spanning 7,500 years of collected knowledge have created our current understanding of Chinese medicine, including acupuncture, Chiropractic techniques, herbal therapy and diagnosis.
Reflexology is also a natural therapy. Reflexology can be used to treat and prevent disorders. Reflexology treatment helps to keep the body in a healthy state. Reflexology achieves this by stimulating nerve endings, representing the organs and tissues of the body, through massaging the points on the feet and hands.
Massage is another natural therapy. Massage can be used to treat and prevent muscular disorders. Most forms of Massage increase circulation and help to remove congestion. Massage is most commonly used to relax muscles. Massage can also be a useful technique for relieving the effects of stress.
Nutritional supplements are another natural therapy. Vitamins, herbs and minerals are used to replace essential nutrients not present in today's diet and nutrient deficient food. Foods and diet may be used to alkalize the body and lose weight. Foods and diet may also be used to increase vitality and nourish the being, balance blood sugar, increase endorphins, warm or cool the body, provide adequate fuel for repair and rejuvenation.
Natural Health care is balancing to the body such as Chiropractic, Acupuncture Meridian Therapy, Reflexology, Massage, Exercise, Energy work, the use of Color, Sound, Scent, Vibration, Affirmations, and or any balancing techniques for Mental, Emotional, Spiritual, Physical equilibrium and creation of Homeostasis in the bodies.
Holistic Healthcare is positively complimentary healthcare, although it is better to use Holistic healthcare as your primary source for health.
Natural health care recognizes the power of the body to heal Itself. It works with this power and does no harm, therefore Natural health care is the perfect Alternative health care to use for Children.
Children's health care should be safe and effective. Children's health care should be without risk of side effects that result from not correcting the cause or using drugs to only treat symptoms. Holistic healthcare and Natural healthcare are the best and safest approaches to Children's health care. Natural healthcare can be used as Complimentary health care, however, Natural medicine (herbs, vitamins, healing foods and homeopathics) is the only safe medicine to use on any child.
Alternative and Holistic healthcare is Complimentary health care but is better used as the main form of health care for children's health as well as adults, seniors, even animals respond beautifully to Natural Holistic Alternative health care.


Est.1998 All Rights Reserved, MAMM is a registered Trademark